2019 Brisbane SkeptiCamp is SUNDAY June 9!

That's right skepticos, it's time once again for our (sort of) annual Brisbane SkeptiCamp!

This is a free event where members of our community (you!) get to present whatever topic you are passionate about.

We are very excited to be at The Sideshow this year. This funky venue is in West End; but not right in town where parking is terrible. They have their own cafe on site (and beers!) with vegan treats. Outside food is welcome, so if you don't like their options you can get something delivered. There are even comfy couches if you need a time out. Take a look

This year we are very pleased that our friends from the Gold Coast Skeptics and Qld Skeptics are co-hosting.

We also have musical entertainment lined up, thanks to Conspiracy of One!

What is SkeptiCamp?
SkeptiCamp is an un-conference. It is less formal than a normal skeptics convention, and anyone with a passion and understanding of a topic is welcome to speak; especially those that wouldn't normally get a chance at a national convention. The Brisbane Skeptics version is a little bit of a hybrid; we like to have a schedule so everyone knows when they are speaking and what talks are coming up. We also like to have a mix of academics, lay people and students.

Take a look at our first SkeptiCamp timelapse.

What are the topics?
This years topics are a great mix. More tba, but so far we have speakers talking about Ribosomes, 5G safety, end of life choice, life post evangelical Christian and more…
Free tickets:
Registering for your free ticket helps us with planning the event. It only takes a moment! >click here<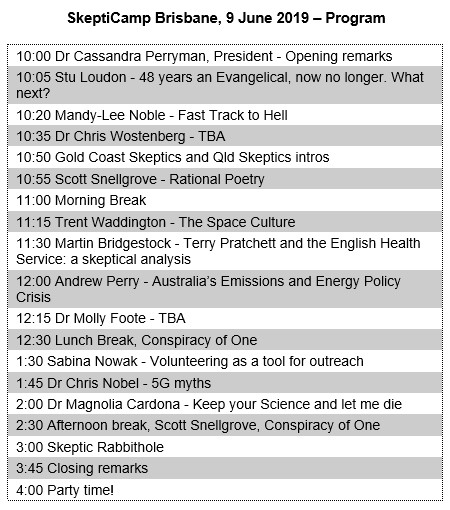 Where:
The Sideshow
349 Montague Road, West End

Afterwards we are planning to head a few doors up to the Montague Hotel for dinner and socialising. The Montague Hotel is accessible and vego-friendly.
Getting there:
Train: The Sideshow is about 30 minutes walking from South Brisbane Train Station. If you haven't tried them, you could jump on a Lime Scooter, but please be careful; we've already heard too many stories of injuries.

Bus: The Route 60 bus leaves the city and goes via Southbank Cultural Center Interchange, and stops at Stop 10 about 65m from The Sideshow.
Parking:
There is limited street parking in West End. Please be sure to check for parking limits and metered parking. Aldi is very close with its own parking, but of course you will need to comply with their parking restrictions.
There is paid parking at Southbank with public transport options as above, as well as Taxi and ride share services.
Community Policy
Please take a moment to read our community policy which will be used at this event.
Facebook event
https://www.facebook.com/events/392395424930025/

Contact
skeptimite@gmail.com
P: 0417 696 739 I rarely answer the phone, and check voicemail even less often tho…